!code for roll over link color> <!code for deleting lines under links for the entire page>
Craft Graphics Index

We are still currently recreating our entire site.
This is a new addition to our web site. Below is a list of items that you can print out to help you with your Gift Giving needs. See Definitions below for more details and please make sure to read the Printing Instructions.
The configuration of this page has been changed!!! The images are now available in either single images or other formats.
This will make sure that when you print them out, you will get exactly the size that you are suppose to get.
Please read the new Printing Instructions at the bottom.
Projects with

has graphics with the project created for it.
Description and Definitions:
3x5 prints 3 to a page
4x6 prints 2 to a page
2 sided 3x5 Recipe Cards are for insertion in your Cook Book Binders (Prints 1 on a sheet).
single image - save it and print it our using 3x5, 4x6, 5x8 or any other format changing paper preference on your printer.
Gifts from your Kitchen - Completed Recipe Cards with Instruction
These are Labels that have been created using our Craft Recipes or Jar Mixes.
All you need to do is save them and print them out on your printer.

Gift tags which are approximately 3x1.5 inch (10 on a sheet)

Gift Labels 3 1/2 x 2 1/4 are created for sticking onto your Jar Gifts, etc . .
There are blank labels as well as completed labels created that will usually match one of the
Completed Recipe Cards

Recipe Cards

Gifts from your Kitchen - Completed Recipe Cards with Instructions

Gift Tags

Gift Labels

Printing Instructions
Recipe Cards - Print on Heavy Card Stock Paper then cut out!
3 x 5 prints 3 to a sheet.
4 x 6 prints 2 to a sheet.
2 sided 3 x 5 prints 1 to a sheet (these can be inserted into a binder
if the left margin is set to 1.00 and the right margin at .05
Recipe Cards - Using Single Image
Save these images to your computer and you can print them out on 3x5, 4x6, 5x8 or any other format
by just changing your paper size on your printer.
You may also download a zipped file with an installation program to use for printing your designs on line.
The Picture Buzz site also allows you to insert text on your images.
It's free to open an account and you will be able to print any size as well as create greeting cards, invitations, banners,
business cards and more. Templates are provided for ease of printing and creating.
Download the Picture Buzz Installation Package

Gift Labels - Print on either Heavy Card Stock Paper or full sheet Labels with the sticky back and cut out!
Gift Tags - Print on Heavy Card Stock Paper for Tags and full sheet sticky back for labels.

All graphics with no lines have been created so that you can easily type your recipe onto the card in your favorite
graphics program. Just right click and save the recipe card to your computer first.
In MS Word and many other programs just add a text box on top of the recipe card graphic
and type your recipe inside the text box and then print!
If you download the program below you can add text to your recipe cards by using their program for free!
After you Choose "Print" on your Browser's Toolbar,
please make sure when your printer's dialog box pops up that you choose to
print only "Pages from 1 to 1" and not "All" pages.
Sometimes it will try to print out up to 3 pieces of paper, the graphics are only 1 page long.
Don't forget to set your margins and remove header and footer.
Credits:
Warmest gratitude's to the following sites for allowing the use of some of their graphics to be incorporated in the images created here.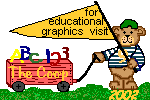 Spread the word!!
Share the Crafts On-Line Graphics Section with your Friends!
Want to know when new graphics are added?
Can't find a graphic you like?
Request a graphic and let us know what you think of our graphics section!
Leave your request on our message board and our graphics editor will get your request
and contact you when it's been added.
Got a Craft Project you'd like to share?
Submit a Project by clicking here.
Help us rebuild our lost site!
All Craft Graphic images created courtesy of Creative Junction and is for personal use only!
Graphics cannot be added or displayed in any collection without permission!

This site provided by Tripod.com
Total Visitors
since February 3, 2002
Free Counter Provided by