Bride to Be Basket
bridal magazine
wedding planner
Wedding Crafts and Decorating book
unity candle
garter
cake knife
honeymoon travel information
wedding album
a gel eye-pack
Tropical Dream Bubble Bath
Rose Petals Hand Cream
Minty Fresh Massage Oil
scented candles
relaxing music on CD or cassette
Craft, purchase and put together everything in this Bride to Be Basket and you will surely give a gift that will be wholeheartedly appreciated. A gift that has the bride to be in mind.
Tropical Dream Bubble Bath
3 drops rose fragrant or essential oil
2 drop jasmine fragrant or essential oil
1 ounce glycerin
1 ounce coconut oil
1 bar castile soap (grated)
1 quart water

Directions:

Mix all ingredients together. Store in a container. Pour in running water.
Ocean Blue Bath Salt
1 cup Epsom salt
1 cup baking soda
4 drops blue food coloring
3 drops Jasmine essential/ fragrance oil
4 drops vanilla essential/ fragrance oil
2 tablespoons glycerin

Directions:

Combine dry ingredients, mix well. Add color and scents one at a time. Keep stirring until mixed well. Break up any clumps. Keep mixing until you have a semi fine powder. Add glycerin & mix well.
Rose Petals Hand Cream

1/3 cup glycerin
2/3 cups rosewater

Directions:

Combine ingredients by shaking in a bottle. To use: massage into hands regularly. Store in a cool dry area.
Minty Fresh Massage Oil

10 teaspoons Grape seed oil
3 drops of Eucalyptus essential/fragrance oil
4 drops Rosemary essential/fragrance oil
2 drops Peppermint oil

Directions:

Blend ingredients well, warm up oil before doing any massage including your fingertips.
Bride to Be Survival Kit
Gather all of the items below and put them in a sachet bag. Print out the image below and attach it to the bag.
Marble To keep you rolling along.
Rubber Band To keep you bouncing back and flexible.
Tissue To dry someone's tears, or your own so that you can see the tears of others.
Cotton Ball To cushion the rough roads, a symbol of support from family and friends!
Paper Clip To clip everything together when it falls apart.
Band-Aid For healing hurt feelings -- yours and others.
Gumballs So that you can blow bubbles instead of words
Button: To button your lips when you have nothing good to say.
Eraser: A reminder that we all make mistakes, but we can wipe the slate clean.
Sweet & Sour Tarts: A reminder that the good comes with a little bad, but the good overcomes!
Gum: A reminder that friends stick together through good and bad.
Rock: To remind you of the durability of our friendship.
Tea Bag: To help calm your nerves
Starburst Candy: To give you a burst of energy on days you don't have any
Quarter: To let you know I'm just a phone call away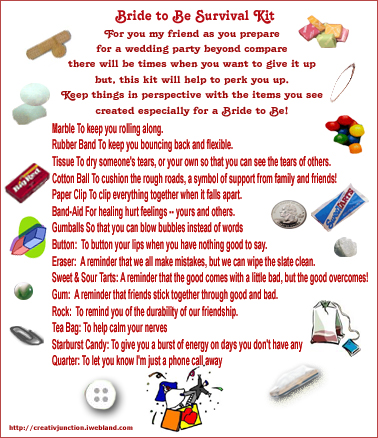 courtesy of Crafts On-Line
http://colcommunity.tripod.com