!code for roll over link color> <!code for deleting lines under links for the entire page>
Gift Baskets make wonderful gifts for any occasion. Customized to fit your friend or families hobbies, favorite things, etc. . makes these well received and very special.
You may also want to print out some Recipe Cards and Gift Tags for items in your Gift Baskets by going to our Graphics menu.
New Baby Gift Basket

receiving blankets
cloth diapers
hooded terry towel
stuffed animal
baby sleeper
Baby's 1st year Calendar
blank announcement cards

Baby Bath

Baby Wipes

Baby Poop Poem

Arrange the items in a Baby Bag or Baby Bath Tub and wrap in clear colored cellophane.
To save graphics to your computer with your left mouse button click on the image and choose "Save or Save Image". Print on Heavy Card Stock Paper. Make sure to make several prints of the Baby Announcements.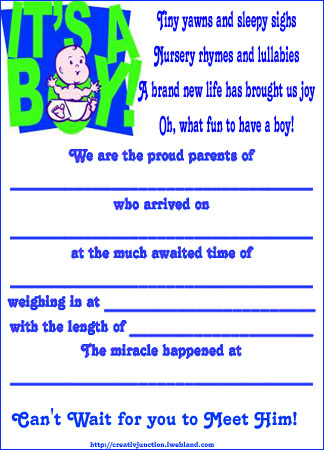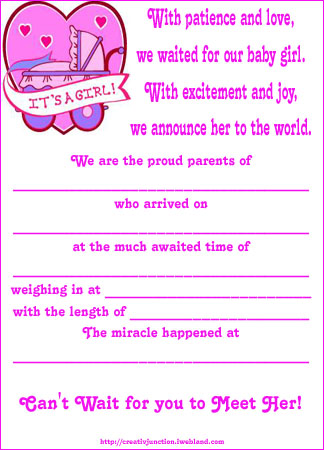 1/4 cup nonfat dry milk
1/4 cup whole dry buttermilk
1 tablespoon cornstarch
1 drop orange oil ( optional )
*Mix together all the ingredients and pour into a clean container or resealable plastic bag. Decorate with curly ribbon,
add a nice tag with the following instructions.
**To Use: Pour 1/4 cup of the bath powder into a full tub or 1 tablespoon into a small baby bathtub. YIELD: 4, ounces
enough for 2 baths
Choose a soft Paper Product (Bounty, Viva, or a good brand that won't fall apart.) Cut the Paper Towel Roll in half

Choose one of these Soap Solutions

1 T of Liquid Baby Soap and ¼ C Water or

2 C water, 3 T Baby oil, 3 T Baby Shampoo or

2 C Water, 2 T Creamy Baby Oil, and 1 T Baby Wash or

2 C Water, 2 T Baby oil, 2 T Antibacterial Hand Soap

Soak in paper towels in a bowl of the Soapy Solution to absorb the moisture (20 minutes for a sealed, air tight container, overnight if not covered) .

Slide the cardboard center out of the paper towels.

You can use an Ice Cream Bucket or Any small round container with plastic lid. Place the wet Paper Towels in the Container. Cut an "X" into the plastic lid and then pull them out that way. Decorate the container as desired.

Pull out one at a time to use (Works best if taken from the center of the roll).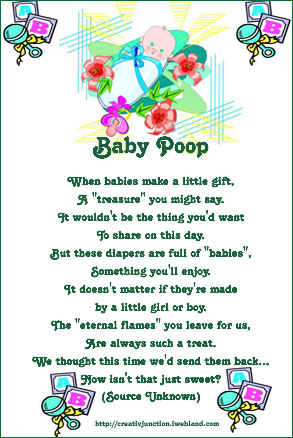 Got a Craft Project you'd like to share?
Submit a Project by clicking here.
Help us rebuild our lost site!

site maintained by

This site provided by Tripod.com