Lace/Ribbon Angels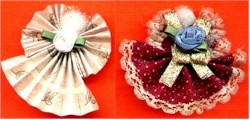 What you need:
craft ribbon 1 1/2 - 2 " wide
SMALL ribbon roses
1/8-1/4 " ribbon for bow
1/4" pom-pom for head
fastener (to wear as pin, or additional ribbon to hang from tree)
glue gun and/or Tacky glue
What you do:
Of course you can use any size ribbon and adjust the size, the angel on your left is made of wall paper, so don't be to choosey, just make one up and see what you think. I have made them using 5" lace and added hair. (If you use fabric you will probably have to use a stiffener.)
For the 1 1/2 - 2 " Angel:
Measure off 5 " of ribbon for the skirt/body
Measure off 2 - 2 1/2" pieces for wings.
Fan fold the body ribbon (1/8 - 1/4 " folds). Glue with Tacky glue at one end. Fan fold the wing pieces the same way, putting a small line of glue in the center of each.
When glue is dried, set one of the wing halves on each side of the body piece (so that about half of it extends above the body piece) and attach with glue gun.
The Pom-Poms head will be glued in between the wing pieces. Now, just make a little bow or ribbon twist that will cover where the head/wings/body joins and glue in place.
Add the ribbon rose on top of that. Turn your pin/decoration over and glue the pin or a 5 " strip of ribbon (folded to make a hanger) to the back. Both of these angels were also sprayed with a aerosol glitter, but that is not necessary. Adjust the folds and needed.
Most of my angels were done with white ribbon lace, but these were the two that I had out where I could scan them.
They truly are easy to make, sorry that my description sounds vague, but maybe with the scan you can figure it out.